About Stripper Delimbers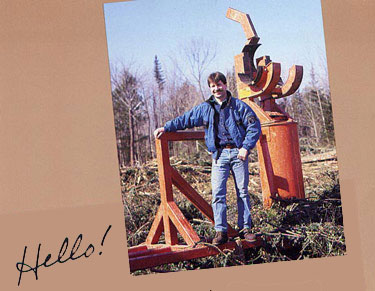 Let me tell you a little about Stripper™ Delimbers,
a product of Samuel D. Sessions, Inc. of South Paris Maine.

Designer, Sam Sessions and logger, Dale Verril invented and patented "no hydraulics pull through delimbing" in the early eighties. Stripper™ Delimbers have been in use for over 25 years and are currently in use throughout the United States and Canada.

The Stripper™ Delimber is the industry leader with fast, affordable, dependable "no hydraulics" delimbing.

The Stripper™ Delimber is a very well built yet simple machine with only two moving parts. This translates into low maintenance costs and less down time.

This machine features a patented, NO-HYDRAULICS design. Price, speed, durability and simplicity make the stripper a very popular alternative to hydraulic units costing 3-4 times more.

The Stripper™ Delimber can be put to work as soon as the machine arrives on the job. No hydraulics means less down time, and maintenance is simple.

The machine delimbs in both directions. The knives are closed by placing the stem of the tree into the machine. The weight of the top arm holds the knives against the stem of the tree as the tree is pulled though the stripping head. The stem is then pushed back through the head and simply lifted up and out. This leaves the top knife open and ready for the next tree.

Exclusive "E-Z SLIDE" bolt in knives can be easily replaced and the double sided, bottom knives can be reversed when worn.

The new Stripper design features a more open throat for easier loading.

The Stripper™ Delimber comes with an adapter plate for easy attachment to trailers and slashers. Rugged yet light weight (1600 lbs) construction allows for easier moving and causes less stress on equipment. It can also be used with skidders and harvesters. Stripper also offers its own extendable chassis. A high speed hydraulic topping saw is available.

The Stripper™ Delimber works well with fir, spruce, pine, hemlock, and poplar, as well as some hardwoods and similar species. Even in applications where only a portion of the wood is being delimbed with the Stripper, a significant increase in production can be obtained.
Even loggers who have big loaders that are equipped for hydraulic units are choosing the Stripper™ Delimber for its performance, simplicity and easy maintenance

"IF YOU OWN A LOADER YOU'VE GOT TO SEE THE STRIPPER"

Owner Stripper Mfg. Co.

Sam Sessions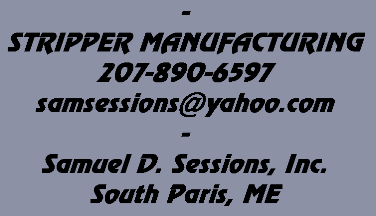 CLIFF SANTY
CLIFF SANTY LOGGING Whitefield, NH

"I have a shear, two skidders and a crane. By adding the Stripper, we tripled our production.

DOUG CURRIER
CURRIER CHIPPING
Gorham, NH

"We bought the Stripper
because of its mobility and simplicity. It can be attached to any of our cranes with just a pintle hitch."

RICK LESSARD
NORTH COUNTRY LUMBER
West Ossipee, NH

"The Stripper is just what we needed. We already had a hydraulic delimber, but we weren't happy with it. We were always adjusting or fixing something. The Stripper isn't just a cheaper alternative. It actually works better."

FOREST PEASLEY
FOREST PRODUCTS Jefferson, ME

"We were all fooled when we first saw the Stripper. We had a hydraulic machine prior to this, and we had to wait for the arms to close. The Stripper opens and closes as fast as you can move the levers.

Everyone thought it wouldn't be rugged enough, but it is -- and the arms don't dig into the wood. It has a smooth slide both ways.
This machine is virtually maintenance free, and it is very easy to transport from lot to lot."